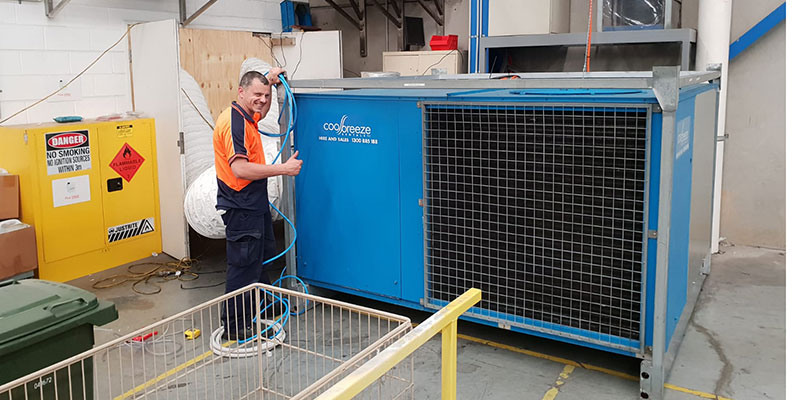 While unscheduled breakdowns with HVAC systems can cause major issues when these systems are regulating the temperature in sensitive environments such as data and comms rooms, it can also have negative effects in manufacturing.
A manufacturer in Prestons, Sydney had a unique situation manufacturing circuit boards. A section of the warehouse was closed off which served two purposes, to maintain a clean environment, and to control the temperature.
As PCB manufacturing machines generate a fair amount of heat, when their HVAC system failed temperatures escalated rapidly and as a result had to shut down manufacturing in this department due to fears of quality control issues on these critical components being produced.
Cool Breeze Rentals were tasked to provide a solution and were onsite the same day for a site visit to establish the best course of action.
Due to the size of the environment and amount of heat generated by their machines, it was decided that a 64kW packaged unit air conditioner was the ideal machine for the job.
The Sydney Cool Breeze Rentals team mobilised and were onsite the next morning to install. The 64kW package unit was installed on the outside of the PCB manufacturing facility. Temporary plywood sheets were installed over an unused doorway to allow for supply and return air ducting. Inside the facility inflatable ducts were installed, suspended from the ceiling, to assist in distributing the cold air throughout the entire space. The entire installation was completed within several hours.
On start-up of the package unit, the cooling effect was felt immediately and allowed production to resume. Cool Breeze Rentals' prompt response and installation allowed this manufacturer to continue producing, reducing costly downtime while maintaining the quality of product they are renowned for.