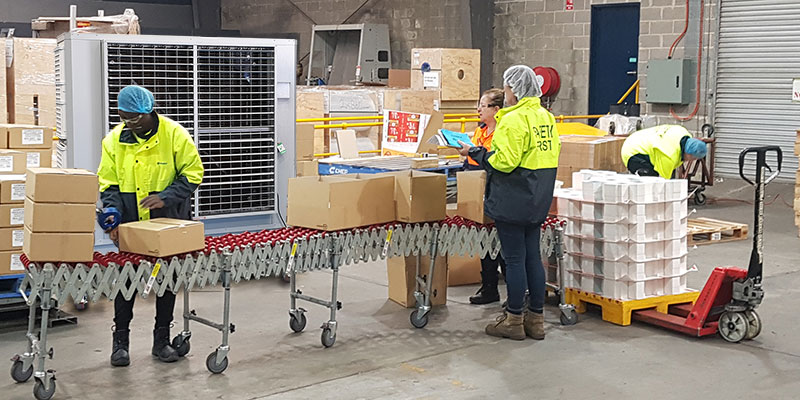 A manufacturing facility in Sydney's North West was concerned about the health and safety of employees during the summer months as they would often experience temperatures well above 30°C and occasionally experience temperatures in the 40'Cs.
Cool Breeze Rentals were contacted to provide a solution and were tasked to provide purchase and rental options. A site visit was undertaken, and the relative problematic areas were inspected. It was not necessary to cool the entire warehouse however they had some labour-intensive workspaces which needed some relief from the high temperatures.
The CB40iQ Evaporative Cooler was perfect for the larger, packaging and dispatch areas. These large evaporative coolers supply 40,000m³ of cooled airflow per hour, suitable for cooling spaces up to 300m². Ideal for cooling a larger area where people will be moving around.
In the manufacturing zones spot cooling of workspaces was required. Due to the limited floorspace, the CB14000 was utilised, providing 14,000m³ of cool air while taking up minimal floor space. Several units were strategically placed in the manufacturing environment for maximum effectiveness.
The evaporative coolers were the perfect choice due to their high airflow and their low power requirements, all plugging into standard 240V 10A power outlets.
The client elected to proceed with the rental option which provided them with the following primary benefits:
- When no longer required the machines are off-hired and removed from site. No storage space required when it is not in use.
- Maintenance is taken care of. If there is a fault with the machine it gets swapped out with a replacement ensuring minimal downtime.
More information on the CB40IQ can be seen here.
More information on the CB14000 can be seen here.