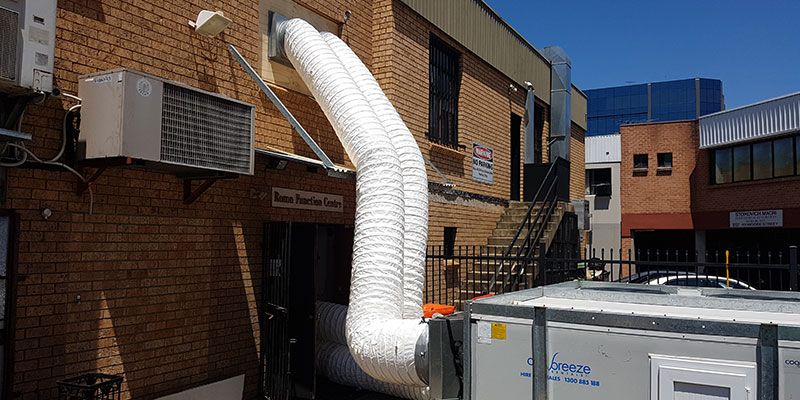 Roma Function Centre is located in Liverpool in the western suburbs of Sydney, a short drive from the central business district.
With an impressive ballroom with a capacity to cater for 1100 people cocktail style, Roma Function Centre has hosted events for the corporate sector, community events and private celebrations.
A couple of days away from a wedding booking, the Function Centre's cooling tower failed. The mechanical service company tasked with the repairs advised that the tower could not be repaired and had to be replaced. The lead time for the replacement was several weeks, leaving the Roma Function Centre without cooling in the peak of summer and during their busiest time of year.
Cool Breeze Rentals were contacted to provide a solution. As the aesthetics of the venue were critical spot coolers could not be placed inside the venue. The team at Cool Breeze Rentals Sydney proposed installing a 75kW Package Unit Air Conditioner to provide relief within the venue.
As the cooling tower had been disconnected, cold air was ducted from the 75kW Package Unit Air Conditioner directly into the air handing system for distribution throughout the venue. A door in the venue was replaced with a plywood panel with grilles and ducting for return air and painted white to match the aesthetics of the venue. A 60kVA generator was installed to power the temporary air conditioner as there was insufficient power onsite.
The solution provided by Cool Breeze Rentals allowed the function centre to continue operating as normal throughout summer while waiting for the mechanical services team to carry out their replacement works to the cooling tower.